Tickets
Women's Hockey
UMD Campus Ticket Office, 1216 Ordean Court
Sports & Health Center Building
Hours: Monday-Friday 10:00 a.m. - 4:00 p.m.
DECC Box Office (next to Symphony Hall)
350 Harbor Drive - FREE short-term ticket parking
available on the bayside of the arena
Hours: Monday-Friday 10:00 a.m. - 5:00 p.m.
Saturday 10:00 a.m.-2:00 p.m.
Advanced purchases can be made during the above
listed dates/time. Tickets can also be purchased at
the Amsoil Arena Box Office on game day.
*DECC/AMSOIL Arena adds $2/ticket facility fee
**************************************************************************************
UMD Women's Hockey
Single-game Ticket Pricing
$10* - Adult
$8* - Senior (age 62+)
$6* - Youth (ages 11 - High School)
$6* - UMD/Faculty Staff (w/current UCard)
* ADD $2/ticket if purchasing at the DECC/Amsoil Arena,
if purchasing through Ticketmaster additional fees apply
Kids ages 10 & Under FREE with a paid adult but still require
a ticket. These tickets must be ordered along with the rest of your
purchase in person at the UMD or DECC/Amsoil Ticket Office.
Limit 2 FREE Kids 10 & Under tickets with each paid adult.
Single-game tickets must be purchase IN-PERSON ONLY at the
UMD or DECC/Amsoil Arena ticket offices. To purchase via phone
or internet please call Ticketmaster at 1-800-745-3000 or log
on to www.ticketmaster.com.
UMD Hockey/AMSOIL Arena seating/ticketing policies:
Children under the age of 10 are FREE with a paid adult BUT still require a ticket
for entry and for auditing proposes. This offer applies only during the regular season
– the youth rate applies to children ages 2 through H.S. for any post-season games.
ADA seating is available for sale on both a full and half-season basis to persons
legitimately in need of this space due to mobility disability needs -- until sold out.
Lost/Misplaces Tickets may in some cases be able to be reprinted for season
ticket holders. Season ticket holders must request reprints in person at the UMD
Campus ticket office before 2pm on Friday (game day) for that weekend's series
tickets in need of reprinting or at the (UMD/opponent) AMSOIL ticket windows
between 5:30-7:30pm on game day. A $5 per ticket charge will be collected at
the time of reprinting. No phone requests will be granted - if you wish to give your
tickets to another person please make those arrangements yourself in advance of
game day.
Game Day WILL CALL must be picked up at the UMD/Amsoil Arena Will Call window
before the end of the 1st period which is the scheduled closing time for the UMD Will
Call ticket window at the AMSOIL Arena. Photo I.D. required to claim Will Call tickets.
SINGLE SEAT POLICY - the UMD Athletic Ticket Office reserves the right to move
a ticket purchasers ticket(s) within the same row in order to not leave a single,
open seat. Our policy is to move ticket holder(s) closer to the aisle -- aisle owners
will NOT be disrupted if this process occurs.
VENUE
UMD Women's Hockey games are played at the Amsoil Arena - the new
home for UMD Bulldog Hockey located next to the current DECC Arena.
AMSOIL ARENA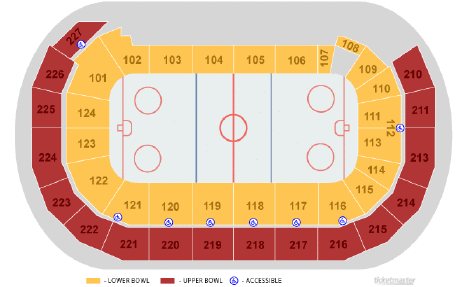 For more detailed seating charts of the Amsoil Arena click the link below.
http://www.decc.org/amsoil-arena/arena-floor-plans.html
PARKING
Fans attending UMD Hockey games may park in the DECC lot or parking ramp. Cost for parking at the DECC is $5/game. Parking is also available in many Downtown Duluth area parking ramps and at parking meters located a short walk down the Downtown Duluth Skywalk system.
UMD Athletic Ticket Office Hours:
Monday-Friday: 10:00 a.m. - 4:00 p.m.
Coming to the UMD Campus Ticket Office?
Please be sure to park at a parking meter or in the designated ticket
parking spaces located on the side of the Sports & Health Center Building.
Failure to do so could likely result in a parking ticket.